Welcome! If you like Ford Mustangs, you've come to the right place. This web site is primarily about classic Mustangs but make sure you check out all the cool images, links and information about Mustangs in general.

I've owned seven Mustangs over the years...man, time sure does fly! My current car is this 1969 Mach 1.




Our 1969 Mach 1. Brutal Big Block Power!


Ever since I was a skinny, slack-jawed, long-haired teenager I dreamed of owning a big-block 4-speed '69 Mach 1. Had to wait a few years...but the dream came true. This car was built with virtually no factory options except the awesome S-code 390 engine and close-ratio Hurst 4-speed transmission. Only 886 Mustangs with this engine and transmission combination were built in 1969. I've updated the car with:


-Hooker Super Comp Headers
-Mallory solid state distributor
-MSD Blaster Coil
-Edelbrock Performer RPM intake manifold
-Edelbrock 750 carburetor
-Holley Hi-performance fuel pump
-Tuff Stuff Hi-flow water pump
-Lakewood Traction Bars
-2 1/2" exhaust with Flowmaster 40 mufflers
-KYB gas shocks
-15x8 Magnum 500s on the rear with 275x60 tires, and 14x7 Magnums on the front with 235x60s.


When I'm feel the need for speed, I get in the Mach 1. Driving it at any speed is not for the faint of heart. When I punch the accelerator in any gear I burn rubber. When accelerating in fourth gear, I'm over 100 mph before I realize I'm over 50. The manual steering, manual drum brakes, and heavy duty racing clutch make you feel like you're driving an exercise machine. This car is even louder inside the cockpit than it is outside, and that's LOUD. But Ford built this car for manly, high speed driving and it needs a good thrashing once a week to stay fit.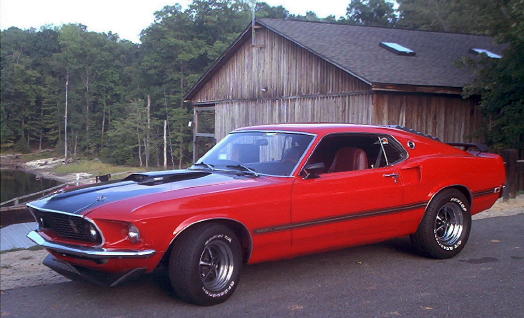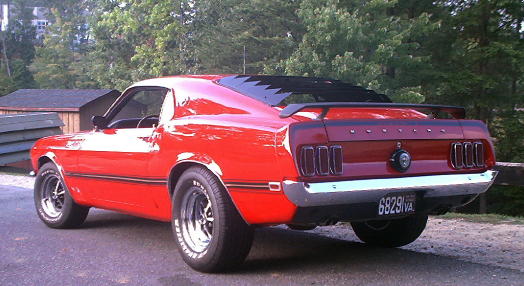 All original or resto-mod- you decide.

I have great respect for the concours car show people; they're the ones that created the huge parts and supplies after-market for classic Mustangs. But if you actually DRIVE your classic Mustang, there are a million ways you can improve these cars for enhanced performance, reliability and safety. If you own a trailer queen that only goes to car shows, by all means take the concours route. But if you drive your Mustang regularly, you ought to update the engine, suspension, brakes and tires. You'll be glad you did!